PROFESSIONAL TOOL SET FOR BEGINNER & PROS
Watch Band Repair Removal was designed for all types of watches, bands, and straps. Use this tool to precisely remove and insert spring bar pins on your watches. Mainly used for watch band removing work, adjusting watch bands etc.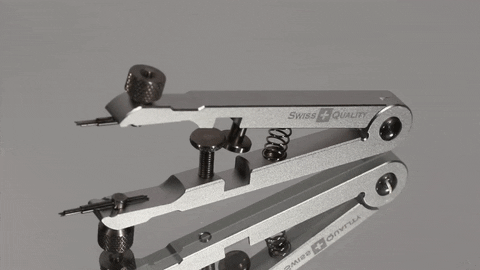 SMALL & COMPACT 
This removal's length is about 3.93 inches, includes 4 sets of Universal interchangeable Stainless Steel Pin Forks with options of 4 different reversible pin end fork sizes (Tip Type and Sizes: V-1.0mm, V-1.2mm, V-1.4mm, V-1.6mm/Pin). This tool can be adjusted to any spring bar width up to 30mm (5mm to 30mm). Tips fit between the watch case lugs, and a watch bracelet, band or strap. For use with most all watches.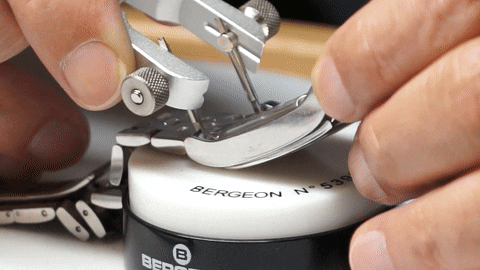 PERFECT DESIGN
Watch Band Repair Removal has a perfect lightweight feel and high quality of durability. Crafted from the strongest and lightest aluminum alloy, designed for tough use while being easy to the touch. Features stainless steel parts and includes 4 sets of reversible stainless-steel pin forks.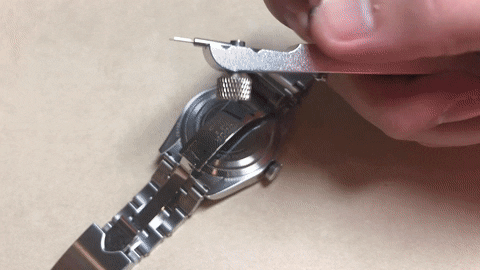 SIMPLE OPERATION
By turning the screw lock, you can lock the specific size of the pliers by tightening the screws and you need to repair them. Spring rod needle and help install the watch bracelet and bring it to a new (or old) case
FEATURES:

Locks by turning a screw, you can lock the pliers in the specific size you need for your repair.
To spring bar pins and help install watch bracelets and bands to a new (or maybe old) watch case.
Easily alter your watch at home or on the go.
Practical tool to help watch band adjust and repair easily.
Stainless steel precision engineered to make strap changes.
SPECIFICATIONS:
Material: Stainless steel + Aluminium Alloy + Brass Plating
V-Diameter: 1.0mm,1.2mm,1.4mm,1.6mm

Item Height: 6cm

Item Width: 4cm

Item Weight: 74g

Item Length: 9.5cm
PACKAGE:
4 * pair Universal interchangeable Stainless Steel Pin Forks 
1 * Removal pliers