NOW KIDS WILL EAT THEIR VEGGIES!
You might think it's just the FUN design on these kids utensils that gets them to eat all their food! And while that is true, it's also the EASY-TO-GRIP silicone that assists them in LEARNING how to use cutlery correctly and naturally empowers kids to use them at every meal!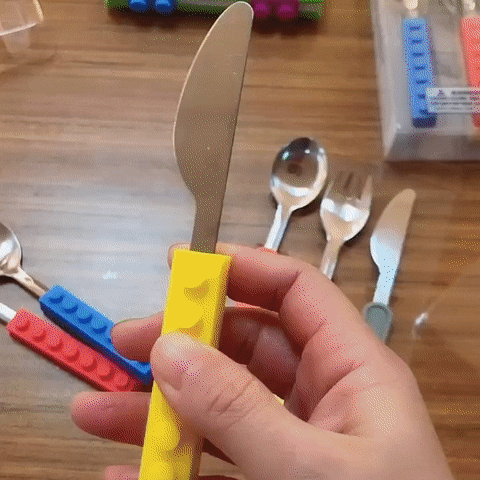 REAL INTERLOCKING BLOCKS
Let's get the obvious out of the way – connecting this metal spork, spoon and knife set into hundreds of configurations is FUN, and so it's not surprising to see parents sneaking them next to their own dinner plate! But also, because this kids cutlery set locks together so well, it makes them easy to store, easy to pop into kids lunchboxes and less likely to get lost.
SOFT AND SAFE
With no sharp plastic edges, this toddler silverware set is suitable for kids who have just grown out of the baby cutlery stage! The interlocking brick is made from BPA free food safe silicone that's bendy and soft, wrapped around food grade stainless steel spoons, forks and knives. They're 6" tall, the spoon and fork are just under 1" wide and the handles 0.5" - easy and safe for kids to grip and eat with.
FEATURES:
Portable, fun, stackable, and preferable to eating with your hands

There are many reasons why we love the Snack and Stack portable utensil set. The least of which is that they keep our hands mess-free when wolfing down some Eggo's mini waffles. Some of the other reasons for our love affair with the Snack and Stack are:

They're the most awesome-looking utensils we've ever seen.

They're almost more fun to play with than your food.

You can stack 'em and then toss 'em into a lunch box or briefcase for easy portability.

They're the perfect size for small children and not too small for adults who still love to play with Lego's, their food, and Star Wars action
SPECIFICATIONS:
Package size: 7.1 x 3.2 x 1.4 inches
Weight: 113g
Material: Steel + Silicon
Spoon: Length 4cm,width3.3cm
Fork: Length 4.5cm,width3cm
Cutting tool: Length 6cm,width2cm
Stackable and portable utensil set
Set includes one fork, knife, and spoon
PACKAGE INCLUDED:
COMES IN A SET OF 3
1 * Fork

1 * Knife

1 * Spoon