NO MORE STRUGGLING TIGHTENING BATTERY TERMINALS
With this product, you are able to connect and disconnect your battery power source just in a few seconds. It is manufactured with copper-zinc plated steel and brass to encourage supreme conductivity. Fits side and top post batteries with standard post adapters.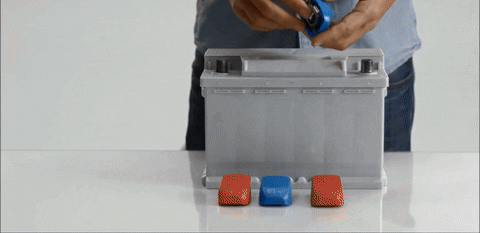 LOOKING FOR SOME VEHICLE PARTS UPGRADES ?
Give it a try on the Screwless Battery Terminal Clamp, it is designed with easy identifiable red and blue covers & reduce risk of electric shock. It also born for quick release of lifting caps to remove item from battery terminals in seconds. Attach to battery terminal by clamping down on the cap, lift cap to remove from battery terminal.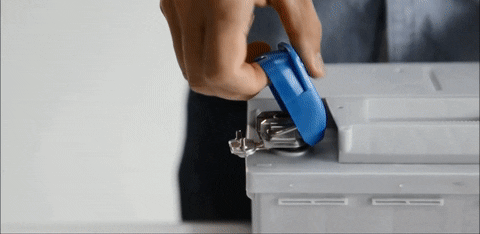 UNIVERSAL TO ALL TYPES OF BATTERY TERMINALS
RoHS Compliant, Fits 4-6 gauge wires.The terminals can fit all 4-6 gauge wires and rated 500 amps continuous 800 surge at 12 volts.Simply attach the connectors to the battery terminals by clamping down and lift the caps to remove them from the battery terminals.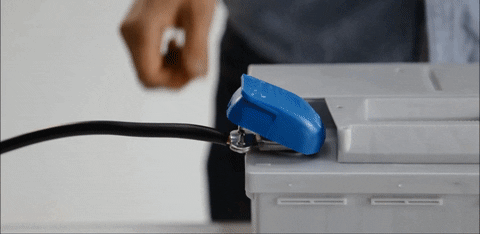 FEATURES:
Fit most battery posts.
Color-coded red positive, black negative.
The cable is secured by screw clamp
Fit all standard round post size batteries
For 12V car or caravan usage
Red clamp - positive pole
Black clamp - negative pole
SPECIFICATIONS:
Colors: Red & Blue ( pair )

Material: Metal + Plastic

Size: Red - 17-19 mm * Blue - 15-17 mm

Apply to Battery Size: 45AH - 200AH.
Positive cylinder diameter: 19mm; Negative cylinder diameter: 17mm
HOW TO USE:
Open the clamp up.
Place the clamp onto the past.
Push the top down so that it clamps the battery post.
CAUTIONS:
Make sure the clamps are a good tight fit and all the connections are clean.

Simply snap down the plastic cover for a strong and safe electrical connection and lift the cover for safe and instant disconnection.
PACKAGE:
Comes in a pair
1 * Red clamp - positive pole
1 * Blue clamp - negative pole