Need an extra helping hand on your woodworking projects?!
The Right Angle Quick Clamp helps hold assemblies like boxes, cabinets, drawers, and cases together to ensure that you get strong, tight-fitting assemblies. This clamp has an adjustable floating head and plated rotating spindle screws for precise alignment and fixing of workpieces.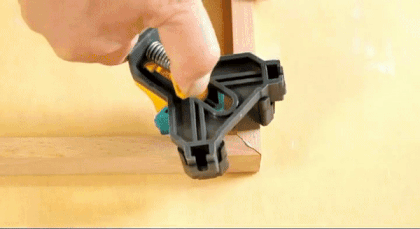 FEATURES:
MULTI-PURPOSE USE: 

Not only for 90-degree angles but also for 45-degree saws. Multifunction Angle Clamp Corner Clip Fixer It is suitable for woodworking, cabinet, and furniture repair connection, photo frame reinforcement, wooden DIY project, etc..

A SET OF 4 CORNER CLIPS: Save labor time and reduce surface workload. Mounting aid for screwing or gluing boards together. The single-hand operation-the the second hand is kept free for the workpiece. 
SCOPE OF APPLICATION: The angular position fixer can quickly and easily assemble the shelf, Suitable for fixing 5-22mm board
SMOOTH STRONG SPRING: High spring tension to keep boards in place when screwing or gluing them together.
PACKAGE INCLUDES:
4 * Right Angle Quick Clamp