FUNCTIONAL DESIGN
Engine Overhead Valve Remover is designed to grab the spring in two different locations, squeeze it together so you can push it down and access the little valve keeper on top. Once you have the valve keeper off, you can use the spring tool just to lift the spring up of the head.
This tool has four hooks that will grab onto the spring. This particular one has the bottoms ones offset. You'll want the bottom one to grab on as low on the spring as possible and the top ones to grab on as high as possible. These bottom ones will open up when you squeeze together on the top portion.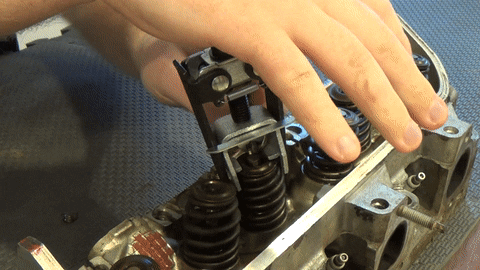 Find a spot on the spring that you can put the teeth into and then start tightening until it's loose enough to get those keeper out.
FEATURES:
QUICKLY REMOVE VALVE SPRINGS: The Engine Overhead Valve Remover is designed to quickly and easily remove and replace worn and broken valve springs from your vehicle
SECURE AND EFFICIENT DESIGN: Compressing springs can be difficult and dangerous, but this spring compressor features two different length jaws grips that easily attach to the valve spring for a secure hold on the part; The overhead design allows you to easily attach the valve tool to your valve springs without having to take the cylinder head from the vehicle for quick removal and installation
FITS YOUR VEHICLE: Easily remove valve springs in passenger and light commercial vehicles with this valve spring tool; This compression tool works on foreign vehicles, domestic vehicles, and vehicles with dual springs and inner and outer springs
BUILT TO LAST: Constructed of quality carbon steel for durability and longevity; Strong bearings provided to withstand high force to easily compress springs; Coated with zinc and black oxide, this valve compressor tool is resistant to rust and corrosion
EASY TO USE: Always wear eye protection and park the vehicle in neutral while working with this tool; Loosen tool to open the jaws by turning the dial adjustment, then align jaw hooks onto the coils of the spring; Begin tightening the dial adjustment to compress the spring allowing you to remove the keepers; Then simply release the valve compressor to remove the spring
SPECIFICATIONS:
Item Size: 14.5cm/5.71", Width: 7.5cm/2.95" (Approx.)

Color: Black & silver

Material: Zinc and black oxide finish

Weight: 0.38kg
PACKAGE:
 1 * Engine Overhead Valve Remover