Copper Desoldering Wick is a solder remover when re-working the solder or removing components that have been soldered.

Desoldering process works by applying the soldering iron to the wick while it sits on the soldered joint or area to heat them both up and them up to the melting point to activate the flux. When this happens, the solder is drawn up the wick or braid, removing the solder.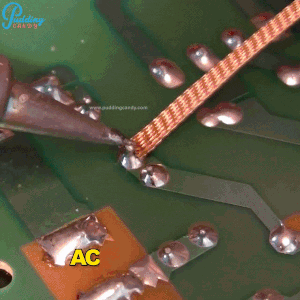 Desoldering is required to replace a defective component, to alter an existing circuit, or to salvage components for re-use. Use of too high a temperature or heating for too long may damage components or destroy the bond between a printed circuit trace and the board substrate.
Efficient-Removes faster with better heat response
Dispenser - Thumb-wheel dispenser ensures easy, clean and safe operation.
Longer Lifespan- Sealed dispenser protects wire from moisture for better lifespan
Reduce Human Error - Effectively reduce possibility of damaging the circuit trace while heating. 
Option Solder Braid Width :
Specification:
Type: Tin Lead Soldering Wire Reel
Package Include:
1 *Copper Desoldering Wick