MAKE YOUR ARM GREAT AGAIN
This power ball strengthen fingers, wrists, hands, forearms, shoulders and bicep etc., and also be beneficial in promoting co-ordination and blood circulation. It spins at up to 15,000+ RPM to exercise and strengthen wrists and hands; You'll feel the burn in just a minute of spinning !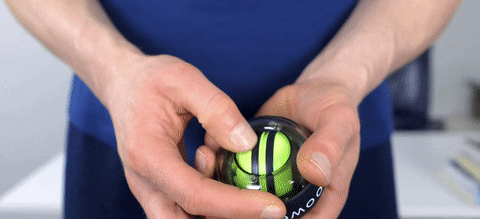 SMARTEST DESIGN
Arms & Wrist Power Ball is small and compact but provides ample resistance via angular momentum for an intense workout; generate 26.8 lb-in of torque at 10,000 RPM. Easily turns on by just pushing the hovering ball to the end, so you can pick it up and get started.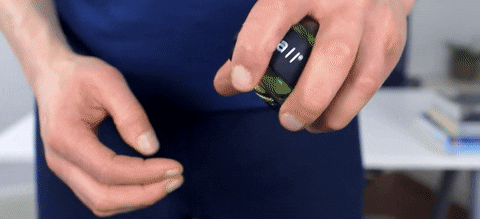 RUGGED, LONG-LASTING DESIGN
Made with a military-grade plastic shell, a break-resistant structure and reversible inner tracks for 2X lifespan. Train your arm & wrist as hard as you can, just like itself ! 
TIPS ON OPERATING
No battery required! Your hand is the battery of this device. The motion of your hand rotating the Spinner is similar to making ice cubes swirl inside a glass. The essence of operating the Spinner is not about how fast you rotate your wrist. It's about how to synchronize your wrist rotation to the momentum and timing the rhythm of the rotor's gyration. The faster the rotor spins, the easier it is to operate. Make sure you start the Spinner with sufficient speed.
FEATURES:

The ball center is corrected by computer balance, with high stability
Special plastic materials are durable
The steel shaft is not easy to break
The ball shell is covered with advanced silicone rubber anti-skid ring, exquisite and beautiful
For those who like golf, bowling, baseball, basketball, volleyball, handball, tennis, badminton, kendo, etc .. Those who need to rely on the wrist can make you more powerful and powerful.
Those who are engaged in computer typing and piano playing to avoid ligament injury.
Workers who use their wrists more often need more practice.
Rehabilitation function to avoid muscle rigidity.
SPECIFICATIONS:

Size: 2.75 * 2.75 * 1.97inch

Color: transparent + Black / Blue / Red

Light: LED Lighting

Weight: Weight with packaging: 0.3kg, Weight without packaging: 0.27kg

Spherical material: Hard Plastic
NOTE:
Arms & Wrist Power Ball is a kind of more precise sports equipment, and it must be careful not to fall when using it.

When using it, avoid foreign objects entering the ball.

When the wrist ball rotates at high speed, do not touch the inner ball with your fingers to prevent finger scratches.

Do not throw the ball at high speed towards the human body to prevent accidents.
PACKAGE:
1 * Arms & Wrist Power Ball