FREEHAND DRILLING LIKE A PRO
With this lightweight, practical attachment, drilling precise, centered holes becomes child's play. Whether it's on the wall, on the ceiling, at a slant, or in round materials, exact drilling is easy.
ACCURATE CENTERED HOLES
Simply twist the base plate for immediate centering on board edges. Double guide bars are attached to the cast metal base scale and can be shifted back-and-forth to set your preferred angle up to 45°. The straight stop and the adjustable depth-stop make repetitive drilling a breeze.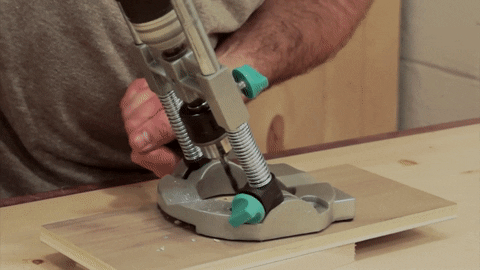 HOLDS ROUND MATERIALS SECURELY
Round materials are secured in the cast V-Groove channel, so even pipes can be drilled without slipping. The base plate has a centering device which guarantees centered drilling. For materials up to 3 inches in diameter.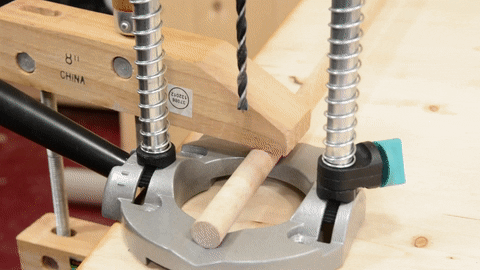 NO SLIPPING - WORRY FREE
The guide bars and removable handle make controlled, accurate drilling a reality. The base's four pre-drilled holes allow you to attach a base or mount it to a table.
FEATURES:
Drill guides that can be used in horizontal, vertical or inclined positions.

The angular position can be raised to 45 degrees, and the bottom rubber pad holds the guide in place.

The drill adapter itself will slide up and down on the guide.

Ideal accessory for your electric drill, suitable for precision drilling and hole sawing

Provides a given angle in any case-on walls, elevated, inclined, round work pieces, slats and profiles.
SPECIFICATIONS:
Material: 

Aluminum die-casting

Adjustable angle: 

-45 ° to 0 °,0 ° to 45 °

Holding diameter: 42.5mm / 1.67 in
Total height: 290mm / 11.42 in
Color: Silver
Turn your portable drill into a drill press and get the accuracy you need at a job site! The guide attaches directly to a 3/8" Drill chuck, and allows you to drill larger pieces you can't fit on your stationary Press. 
PACKAGE:
1 * Angle Drill Holder Guide